HǣlthLink
HǣlthTech is B2C e-commerce platform that connects consumers to
healthcare & wellness providers
HǣlthLink enables healthcare & wellness providers
to sell services using Hǣlth
Link Cloud platform
HǣlthLink Cloud Services offers an e-commerce cloud computing solution to healthcare & wellness providers that want a flexible, secure, highly scaleable, and low-cost solution for online sales and services.
Digital healthcare has been a rising space in the last few years, but while the structural and cultural change in the healthtech industry is moving toward B2C, where companies sell directly to the consumer, we're still in a B2B2C world, where an insurance company, or an employer, still stands in between.
Online e-commerce today represents one of the fastest and the most dynamically growing segments. It is also the most challenging in accomplishing its fundamental proposition of going beyond geographical boundaries to deliver the entire gamut of products and services to the customer's doorstep.
While Logistics and infrastructure in an e-commerce business are the very backbone of the fulfillment network and the basis of winning a customers' loyalty this is fundamentally different for e-commerce in healthcare.
Over the last couple of decades, rising internet and mobile phone penetration has changed the way we communicate and do business. E-commerce is relatively an original concept. It is, at present, heavily leaning on the internet and mobile phone revolution to fundamentally alter the way businesses reach their customers. We believe that Healthcare is next evolution and will provide access to customer that physical location cannot.
We believe that healthcare is the next evolution in the online retailing space as the sector offers an immense potential to the players. A significant increase in life expectancy combined with increasing demand for quality healthcare has led to a huge online demand of healthcare services.
Major drivers for
online healthcare
01

Time & Cost:

The retail and other verticals have gone online, the time and money to access healthcare in large cities is increasingly an issue. Online business enables this in the privacy of their homes at their own time and convenience without having to travel long distances for consultation.

Healthcare eCommerce as other digital commerce segments, customer experience is paramount. The key is to make the online buying process between customer as easy as possible, especially the ordering and tracking functionality.
02

Healthcare Product Content Management

There are several ways that healthcare eCommerce requirements may differ from other B2C eCommerce needs, but one of the main differences is in the variation of content management needs.

Information may vary depending type of services offered creating varying levels of content management needs. The Information for a medical services may be significantly richer per product than other industries.

The level of product sophistication affects content management needs, too. Very rich product content is needed for complex medical services, compared to the information needed for general medical services.
03

Payment Gateways and Security

Secure online transactions between customers are imperative for any B2C eCommerce solution. The solution must be able to support multiple payment options. The eCommerce solution should have the ability to let a customer open and authenticate an account that displays transaction history and information related to services.
04

Administration Console

Behind every great eCommerce experience is the method to manage the platform. Since configuring and managing an eCommerce site involves help from multiple people spanning a few internal departments, it's critical that an intuitive, efficient interface exists to find and configure all available settings or information. Business-users today expect software to be quick and responsive to their needs, allowing them to accomplish their jobs accurately and efficiently.
05

ht-consumer-demand

A massive shift in popular mindset about healthcare is underway that will generate the consumer driven demand for healthcare products and services. Consumers have started demanding services that can cater to them in a personalised manner.

Services purchased on HǣlthLink are paid to healthcare provider within days helping to improve cash flow. HǣlthLink charges its third-party healthcare provider a referral fee for each sale which is a percentage of the sales price.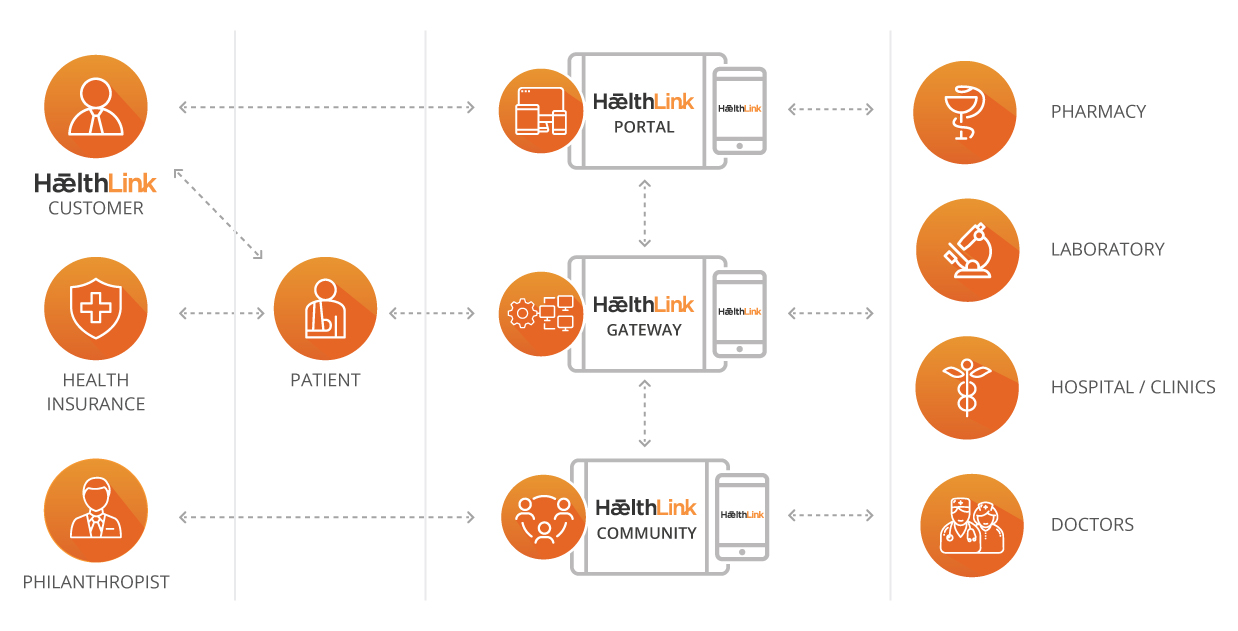 PHARMACY
Prescription Request
Prescription Fullfillment
Home Delivery of medicines
Ongoing refill of medicines

HOSPITAL & CLINICS
Specialties and services
Service schedules
Doctors specialties and services
Doctors schedules
Laboratory services
Pharmacy prescriptions


DOCTORS
Doctors specialties and services
Doctors locations (Hospital & Clinics)
Doctors schedules and appointments
Prescriptions
Laboratory tests
Tele-Medicine

HEALTH INSURANCE PROVIDERS
In-patient Health Insurance
Out-patient Health Insurance
Travel Insurances
Other insurance products and servicess

SERVICES AVAILABLE

Hospital and Clinic Services

Doctors Services / Specialties

Laboratory servicess

Pharmacy prescription

Health Insurance services
CUSTOMER
COMMUNICATION

Laboratory Test Request

Laboratory Test Result

Prescription Request

Prescription Fullfillment

Hospital procedure results and recommendations

Doctor feedback and recommendations
PAYMENT GATEWAY